Rimmel Moisture Renew is fairly new lipstick added to the line. I picked this at Ulta.
Rimmel Moisture Renew Lipstick - Vintage Pink
This is a very Moisturizing lipstick, true to its name. The Packaging is Deep Purple in color, but looks more like blue in my pictures. The finish is metallic, but the tube itself is plastic, which snaps shut well. I personally find the packaging tacky, but thats ok.
Swatch of Rimmel Moisture Renew Lipstick - Vintage Pink
The Color is very deep Mauve and is pretty warm. It definately has pink Purple undertones to it. Now the swatches are deceptive. Most of the time camera, lighting, flash etc affects the color a lot. Similar is the case with my swatches and pictures. They would just give an idea, but definately not the exact color. The lipstick appears more lavender'ish' here, but in person its not. It very warm mauve pink.
The Beautiful Color
The Texture is Fantastic. Its veru moisturizing, opaque and creamy. Its soft and smooth on lips and reminds me of Creemsheen finish from MAC. I find this is more softer than the Maybelline color sensation line that I swatched last week or so.
Lip Swatch
The lipstick itself is decently long lasting. Obviously, not as long lasting as stains, but considering the fact that its creamy and moisturizing, it does has a good staying power.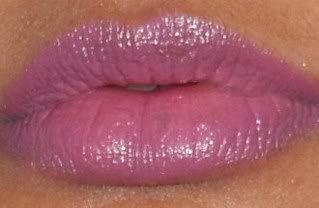 Lip Swatch in More Natural Light
The lipstick has perfume like fragrance. Its not annoying, but I don't like perfume kind of sweet smell in lipsticks. Thankfully the smell is not plastic kinds.
This retails from $6 to 7 at various drugstores and grocery stores. Most of the times they are on BOGO sales. For a drugstore store price, its very nice stuff and the color selection is good too.