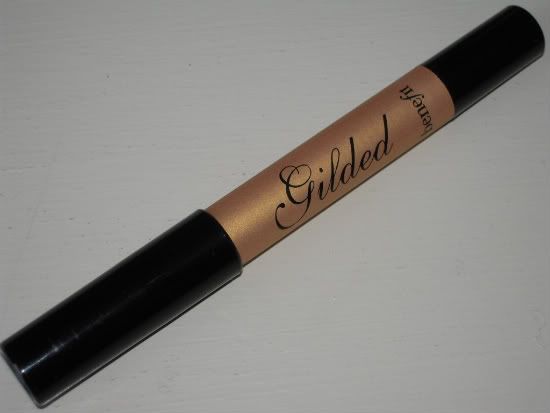 BENEFIT: GLIDED
I don't know where to find this product. I don't see this on Sephora website nor do I see it on Benefit' website.
Its strange because the product is pretty cool obviously with few flaws. It is a part of the kit.
Anyways, over to the pencil and my thoughts on this product..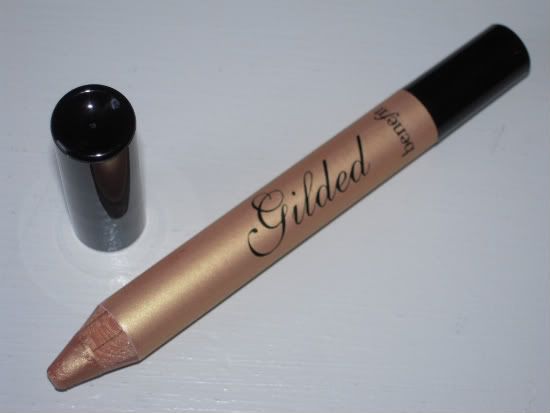 The Color
This one is a liner/highlighter (I assume, because it never says anything), which is peachy gold color, like melon pigment in cream form. It has this very creamy consistency like NYX Jumbo Pencils. The color has this amazing sheen to it, which tempted me to use it as cream eyeshadow, but boy, it creased like crazy! That's not a con, because this is not what Gilded is suppose to do. It is not supposed to be used as a cream eyeshadow, it is supposed to be used as a highlighter…so me using it in a wrong way then saying its not cool is not fair at all.
For the longest time, I kept calling this Glided and not Gilded....????
Swatches of Benefit Gilded, MAC Melon Pigment, MAC Rubensque Paint Pot

Under my brows I used a tiny bit and blended with my finger. It gave a lovely sheen and goldeny highlight, which is very classy. Its not glittery at all, nor overly frosty, but imparts a lovely sheen. I also used it as a cheek highlighter when I applied my MAC Optimistic Orange cream blush and let me tell you..I looked gorgeous…lol!! It was a little difficult to blend, but I would be using it with certain colors occasionally, so that's ok.
It's the color of the product which is warm and goldeny , a color that works beautifully on skin tones like mine. I am NC40, olive skin toned person with heavy yellow undertones. It looked cool in the inner corner of the eyes. It just brightened the whole eye not in a crazy shimmery way, but in a nice way. It stays on the water line and really makes the eyes look wide and open..I believe this is what its meant to do in first place.
This came in a kit which is called "Legally Bronze" by Benefit and its perfect because the whole kit will help you achieve that JLO look…seriously!!!
Swatches in different lighting
What I didn't like was the fact that I have to sharp it and I find that a pain with any cream pencils, because tons of product is wasted and then later on cleaning the sharpner is a pain in…..
While I was searching where to find the product on net I found a post by Karen of
makeupandbeautyblog
. Apparently some makeup artist from Benefit told her to use Gilded under red lipsticks and lipgloss for that extra warm, shimmery color….and yes, it does works!!! I tried using it both under and above red lipsticks/lipgloss…wine lipstick and even deep dark chocolate colored lipstick.
It worked really beautiful. This literally opened new ideas for me. The results were awesome!!!
p.s: If you wonder I use 'sheen', 'lovely' 'amazing' and similar words in most of my posts, its because I am not a professional writer and I know only these words to express.....
Disclaimer: This is not a paid or sponsered reveiw. The thoughts are my own.