In this post I share a few on my MAC Pink Eyeshadows. I don't have very many MAC Pink shadows for 3 reasons.
1
.
I don't wear Pink often on eyes.
2. I have some pinks from Urban Decay and Stila in their pre-made palettes.
3. If I ever need to use a certain Pink, Peachy Pink shade on eye, I end up using any of my Blushes!!
Two of these are Limited Edition and rest are permanent.
MAC Eyeshdows in Sunset B, Expensive Pink, Neutral Pink, Haux, Pink Venus

Sunset B (LE):
This color is a Starflash finish. Its one of the most pigmented Pinks I have. The texture is smooth, but not my favorite. Its a little on powdery side, not much though. Its medium pink shade, not OTT frosty or anything like that. Its decently pigmented. I have not used it much, but whatever little it has been used, its always either with a grey or a purple. I have even used it with neutral colors like Naked Lunch and Femme-Fi, but definately not used often.
Expensive Pink:
This is a permanent shade and is a Veluxe Pearl finish, which makes it decently pigmented and easy to work with. I would have placed it on my peachy- orangey palette, but as the name said Pink, I placed it next to pink colors. The color itself is a duochrome kind. It looks orange, peach, gold, rose, pink all rolled in one. It is warm shade and can be paired with many many colors. The possibilities are endless. You Tube has many tutorials using this color and so do many blogs. Its a lovely color and the end result is Expensive and Chic...
Neutral Pink (LE):
This is just like its name. A neutral color with some Pinks in it. This is definately on cooler side, but wearable. It is a muted rosey kind of color with some grey/mauve tones...I find it difficult to describe. Its a satin finish, so its not flat matte nor its shimmerly like a frost. I wear it with greys and purples. This is definately a Unique pink I have seen though its not the most pigmented one. I got mine at CCO...At $10.25, it didn't hurt!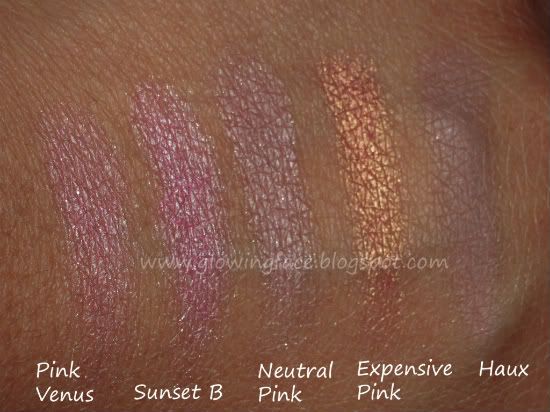 Swatches of MAC Eyeshdows in Sunset B, Expensive Pink, Neutral Pink, Haux,
Pink Venus
Pink Venus:
This is a permanent shade, its a lustre and I hate lustres....I said it all in one breath. The color is pretty. Its a girly pink, with blue undertones and some kind of silvery shimmers. It honestly is not as bad as some of the lustres. The color pay off if not so great. I got mine in FAFI quad 1. I wear it along with other colors in the quad. Thats the beauty of pre-made palettes...I don't have to use my Brains.
Haux:
This is a permanent shade and is a Satin finish. Now, its a rosey, mauvey Brown color. Technically its not a pink, but it didn't fit in my Brown palette, it didn't fit in my Purple palette. It lives next to Neutral Pink, so I call it a Pink. I mostly use this color as a blending color, just to transition my pinks into purples or greys. I have never used it as a lid color on its own.
These are a few Pinks I have. In my palette, the pinks gradually end in Purples with Pink tones like Plum dressing and Stars and Rockets. Stila Precious pearl palette has 2 pinks which are very pretty. One is a baby Pink color and other is a warm coral pink. Urban Decay palette has a Hot pink, magenta kind of color and then I have some Fuschia Pigment and Pink Bronze pigment.
For someone like me, who rarely wears pink, I think all this is more than enough...
Hope you all enjoy this post and leave in some suggestions for warm or wearable pinks.