A sheer, oil-free, cream-to-powder complexion perfector. This is lightweight,
translucent, foundation-like product smoothes out imperfections and evens skin
tone with a silky, smooth finish that's super natural and super gorgeous.

First I got it as a mini in those Travel kits released by Benefit, a great way to try those sample size product before committing on a full size one. Initially I had like this product, but my only issue was the color match. I went ahead and bought the Deep color and unfortunately that color too didn't work.
On to the review:
Benefit calls it "Foundation Faker", which obviously means something that you can apply to get a look like Foundation, but is not really one…duh!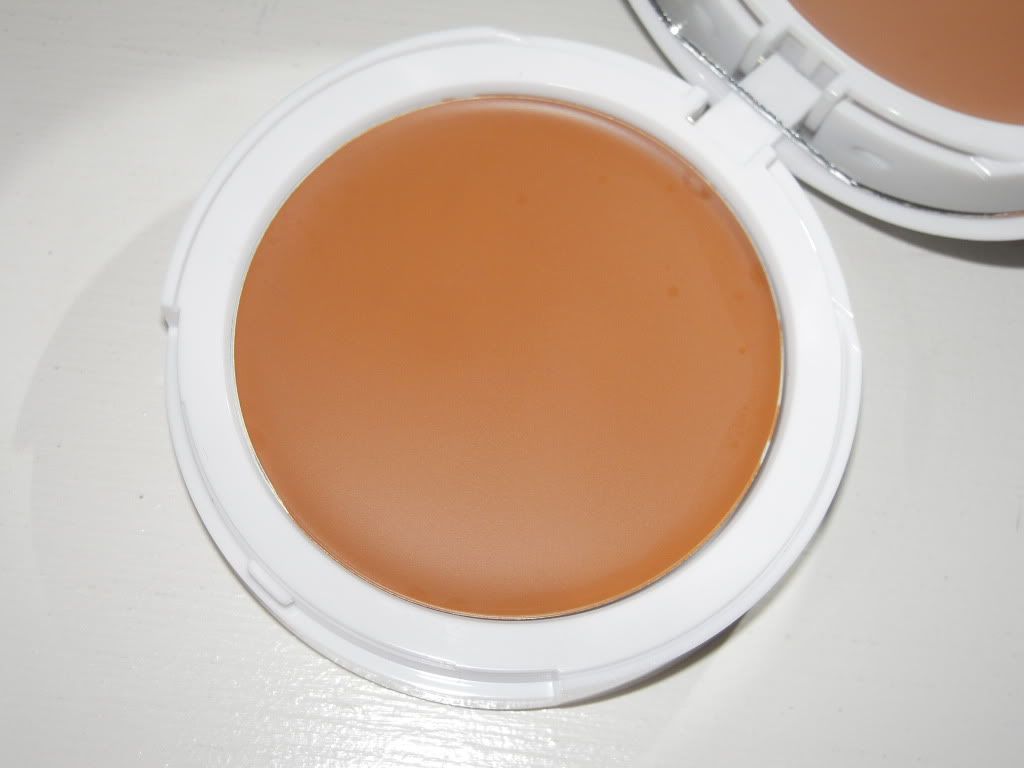 Some Kind-A Gorgeous in Deep
The Packaging
: The Packaging is cute, like most of the Benefit products. It looks like a record and comes with a good size mirror and a sponge, securely nested in lower compartment. It is white in color and as the product is a cream, after a couple of uses the Plastic container tends to get dirty and looks ugly.
The texture
: This is a light weight, cream to powder product. It has no smell and is not too greasy or oily to touch. Infact it turns into powder form almost instantly on rubbing. Its pretty easy to blend.
The application:
This being a foundation faker, does not really has the coverage of a foundation. It is pretty much light coverage cream and all it will do is give an even look to the skin. It turns to a powdery finish on application, without actually looking cakey. It comes with a sponge, but I personally prefer using my fingers. The sponge soaks up too much product and there is a lot of wastage. Also, its just gross. I could never apply any cream product on my face with that Skunk Brush. Fingers are my best friend.
The color
: Benefit has this in 3 colors. Lite, Medium (Original), Deep. Apparently, it is supposed to be self adjusting and these 3 colors would almost work for anyone. I think that's dumb. The lightest color will probably work on very light skin tone person and may be one or two shade before and after. Same is applicable for other shade in medium. At the most the product will cater to one shade lighter or darker than the actual color of the cream. This one did turn ashy on me and was totally light and unnatural. The darkest shade which is Deep, is just so dirty, muddy and Orange/Yellow. I don't really see it working for many dark skin tone people, including myself. Its just Dirty!
The feel and Finish
: When I tried the sample size in summer, I liked how it felt on my skin. Apart from the mis-matched color, nothing was wrong with it. I am more of a tinted Moisturizer person, so I personally liked the whole concept of giving the face an even look, without all the caking and heaviness.
In colder months, now that my skin is drying, I find this product too drying and it just sits on the skin and makes those flaky patches more noticeable. This would not be a great choice for people with dry skin or with many issues.
If your skin is in a condition, where you need to apply a lot of Concealer, this product will be useless, because you will end up seeing Concealed Patches beneath this!
Size Comparison of a mini with MAC Eyeshadow
I personally feel, that this a product more apt for someone with really good, healthy skin with minimum issues. Someone with Normal and Oily skin will enjoy this product. The color match would still be an issue though. I strongly believe with my experience, that those 3 colors DO NOT work for almost all the skin tones.
Swatches of Foundation Faker in shade Medium (Its so Ashy)
Did you ever try this Product? Share your thoughts...