In the past I had posted a similar kind of MAC Highlighter and Lid Color Post (
Click here
). You guys had liked it and few of them said they would like to see some more similar kind of post.
So here are a few MAC Grey/Silver color eyeshadows that I own.
Few of these are from Permanent collection and some are Limited Edition ones.
MAC Eyeshadows in Silverthorn, Silver Ring, Smoke and Diamonds,
Knight Divine, Print, Typographic
Silverthorn (LE):
This is a Limited Edition Eyeshadow and is a Veluxe Pearl finish. Its a 'cool' toned grey and has some bluish undertones to it. This one looks very silvery with a hint of blue on me. Infact, I use this color in place of any silver eyeshadow. As I am a warm toned person, frosty, Silvery color like MAC Electra does not looks very flattering on me. I like to pair this with Purple and Pink looks. I rarely wear pink e/s, so I would say more of purple looks. I use it in the inner corner of the eye or the inner 1/3 of my eye lid. This is not used often, but definately needed as most of my inner corner or highlight colors have Golden hues in them.
Silver Ring
: This is a permanent MAC shadow and is a Frost Finish. This is a greyish silver color, with more grey and less silver. This too has some Bluish hue to it. I like to use this as a lid color, for smokey looks. It looks pretty with a Greyish base underneath like Skinny jeans by Benefit, which is a creaseless cream shadow. Even though its a frost, its not OTT frosty and its easy to work with.
Smoke n Diamonds
(LE): This is a LE color and is a Starflash Finish. Its a unique color for sure. MAC does not has anything in permanent line like this one, though Stila has this color called Diamond which is very close to this one. I have never got a chance to compare them side by side, but in store the Stila one reminds me of Smokes and Diamonds. I remember people paying crazy price for this shadow as it as an instant sell out and hard to find shade. It was re-promoted last year again. The color is pewter grey, with no blue hue in it. Its a lovely color. I like the fact that there is no blue tone to it. Its a Starflash finish, but does not behaves like one. Its a bit powdery.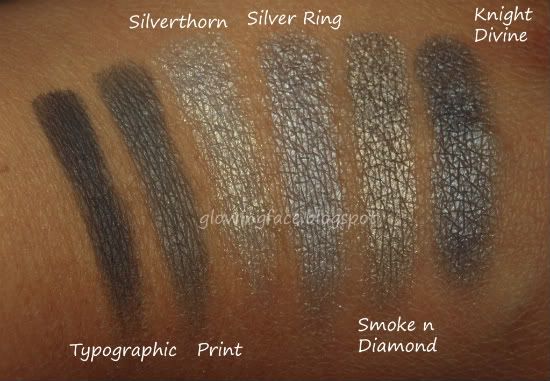 Swatches of MAC Eyeshadows in MAC Eyeshadows in Silverthorn, Silver Ring,
Smoke and Diamonds, Knight Divine, Print, Typographic
Knight Divine
: This is a permanent color. This is a Veluxe Pearl finish and MAC describes it as Black with Silver Pearl. I prefer to call it Charcoal grey with blue tones. This one is a wearable shade of grey and I use it often for an easy smokey look with Carbon. I like using is over some kind of blackish, dark base or else it can sometimes look blue if worn all by itself. Its not overly shimmery, which is great! This one can be difficult to blend at times.
Print
: Another of MAC's permanent shadow. This one is a Satin finish and MAC describes it as muted Grey with Silver Shimmers. I personally don't see any shimmers when its on my lids. I love the fact that it has no funny Blue tones to it. This is one of my favorites. I love to use it over my eyeliners.
Typographic: This is a matte square finish. Its technically black, but not as black as Carbon. Its described as Asphalt Black by the website. I definately see grey in it. It is a fantastic shade IMO. Its great for days when Black is to harsh. Its a dream to blend. MAC should have more colors in this finish.


MAC Eyeshadows in Vex, Howzzat, Copperplate
Vex
: I hate this color. Rather I should say, I don't know what to do with it. Don't be decieved by the swatch that I have. In reality its a duochrome, a beige color with pink green color. It looks grey to me. Grey with some funky green n pink going on. Its a frost finish and I seriously don't know what to do with it or how to pair it.
Howzzat (LE):
This was in my Fafi Quad 1. Its dead similar to Knight Divine. If you have missed on this quad, just make one at home! Naked Lunch, Knight Divine, Pink Venus and Vanilla gives you a Fafi Quad 1, minus the stupid quad, that had paper sticker of Fafi..Crap!!
Copperplate
: This is a matte square finish too. Its a muted mid-tone grey as per the website. Its a unique, different color, with lovely finish. I love matte squares..they give you the benefits of matte, without the pain of matte finish. I have picked this one recently, didn't get a chance to play much though.
Swatches of MAC Eyeshadows in Vex, Howzzat, Copperplate
Royal Assets palette in Smokey Eyes
I have this Palette from some Holiday collection. I believe it was a Smokey eye palette in 2007. I am not 100% sure. I got this one from a CCO simply because it had a Gorgeous Packing. Have never touched it ever...Never plan to touch either. I plan to sell it on E-Bay and become millionaire...lol!!!
These are some of the Grey and Silverish greys that I own. Greys either turn blue or they look silver. Suggestions for unique and amazing greys always welcome...oh, I have Sweet Sienna Pigment, which is one of the best GREYS mever made...