BEAUTY OBSESSIONS is just a fancier name for monthly favorites kind ofposts. I
directly lifted this name from a You Tube Guru DRBrooklyn. Every monthit will
feature a list of make-up, clothes, jewelry, fragrance etc which I usedmore than
the other stuff I have. Things with which I was a little tooo obsessedthe whole
month!

1. Tarina Tarantino Blush in Charm (
Review
)
2. Tarina Tarantino Lipstick in Cameo (
Review
)
3. Chanel Kasaka Beige Quad (
Review
)
4. Benefit Creaseless Creme Shadow in Marry Up
5. Urban Decay Primer Potion (
Review
)
Usually when I buy something new, I just start wearing that a little more than other stuff that I already have. So when I hauled for Tarina Tarantino stuff and Chanel goodies, I just randomly created a look in my mind and laid out the products and cliked this picture. I would have normally not cliked the picture, but the blogger in me did.
I wore the above combination of eyes, lips and cheek for the initial part of the month, but then as days passed by, I was not loyal to all of these.
Benefit Creaseless creme shadow in Marry Up
is a very beautiful rose gold kind of color. It looks fantastic all on its own and beneath
Kasaka Beige
quad, it just made the colors more vibrant and lovely. I have reviews for every other product mentioned above.
1. Bare Escentuals Buxom Lipstick in Amsterdam
2. Tarina Tarantino Lipstick in Cameo
3. Bare Escentuals lipgloss in Zena
I used the Bare Escentual lipstick/lipliner and Lipgloss in conjugation with the Cameo Lipstick, as the lipstick alone is pretty sheer.
Swatches of Lip products : Amsterdam, Zena and Cameo
The result of the combination is the lip color below. Is it nice?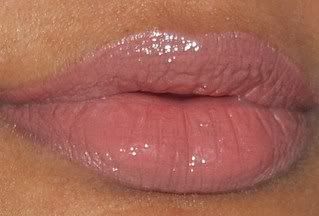 2. Benefit One Hot Minute
3. MAC 165 Brush (Review)
4. MAC Studio Fix Powder in NC 42
After almost half the month, except for 165 Brush, which I almost used consistently with the highlighters and LOVED it...nothing else was absolute favorite. I was not loyal to anyone color or cosmetic product.

3. Stila Tinted Moisturizer SPF 15
5. Clinique Even Better Skintone Corrector
6. Philosophy Hope In A Jar
7. MAC Tinted Lip Conditioner
My skin care stuff were pretty much the same. The new addition to the routine were Philosophy Hope In A Jar and Clinique Even Better Skintone corrector. They are doing good for my skin. I would review them by the end of this month.
I am absolutely loving the Tinted Lip conditioner by MAC. The fact that its in a tube/lipstick form is amazing. Its one wonderful product that I absolutely adore and have been using since I bought it from my CCO during mid April.
2. Davidoff Cool Water EDP
3. Maybelline Color Sensational Lipsticks (Review)
White Citrus is a very fresh Citrus scent. Its not long lasting, but its cheap and I don't mind sparying it a gazillion time. I have a roll-on of same scent.
Davidoff Coll Waters is my all time favorite summer/hot weather scent. I have gone through so many of these. Can never go wrong!!

Maybelline lipsticks were pretty much used since they were bought. Nice, wearable colors.

Nails are specially taken care of in summers. I have been liking
Mint Mojito
by Orly a lot. It was a color released last summer. I am not so updated with the nail polish collections. Nail Envy Strengthening one by O.P.I is working good and I use it as my base coat. Seche Vite is the best thing made for nail everrr...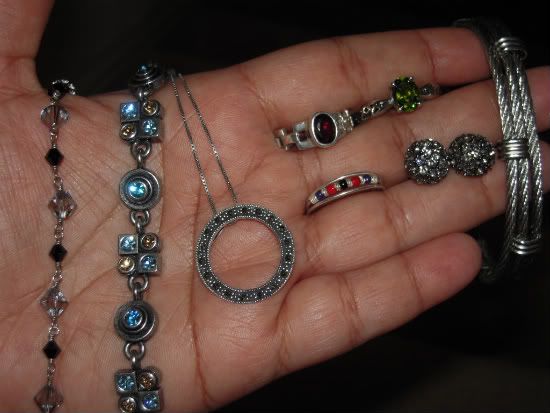 Above are a few accessories I wore often, this month. I did wear many others, but these were kept outside in one candy dish and I ended up being lazy and wearing these most of the time.
I hope you read this Long post till the end... If you enjoyed it, fine..if not...thats fine too...The month has passed off either ways...