Ulta is having 40% off on various brands, Maybelline being one of them. I had a $5 off coupon too...So I snagged a few Color Sensational Lipstick which has recieved some great reviews from make up lovers all over.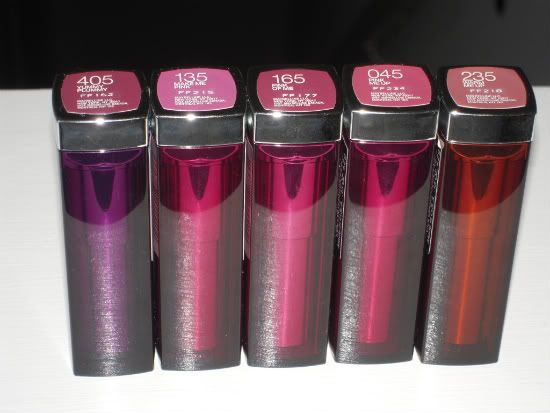 The Packaging
Each of these lipsticks were around 4 USD and I got $5 off too, so the bill was around $16 or so, which is less than the cost of a single lipstick from many High End brands!!!
The Sensational Colors
They have huge color selection and have categorized them in Pinks, Neutrals, Reds and Plums I believe. The color of the casing is similar to the color family it belongs.
My choice of Colors
The packaging is sturdy, but the tube is annoying. I just don't like it. There is something odd about it.
Yummy Plummy, Make me Pink, Pink of me, Pink me up, Warm me Up
The names are so confusing!! I had to double check what I had kept in my shopping basket and what was on shelf and repeats. I even could not recollect the shade names I had noted in my mind from the swatches I had seen on the beauty forums and blogs.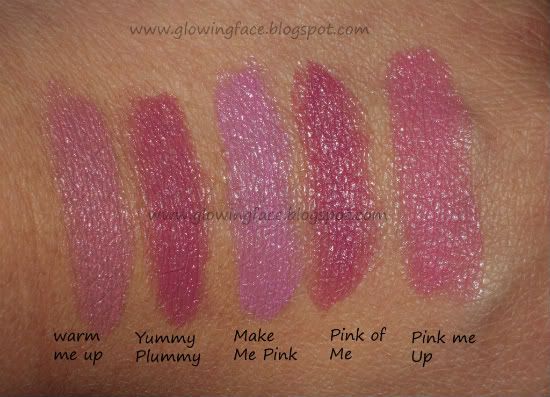 Swatches of Maybelline Color Sensational Lipsticks in Yummy Plummy,
Make me Pink, Pink of me, Pink me up, Warm me Up
The Lipsticks are good quality. They remind me of MAC Satin finish and one was similar to Lustre finish. As many people have tried MAC, it was easy for me to compare the finish with that brand. The lipstick gave pretty decent and opaque coverage. The colors are buildable. Now I wore only 2 of these shades, but I found them pretty long lasting. They are not very moisturizing, but not very drying too. I like wearing a lipbalm underneath any lipstick, so thats not much of an issue for me personally. I chose the shades that were not Frosty in finish.
The smell is not annoying. Its not too sweet like L'oreal ones nor its plasticky. It does has some sort of light fragrance, but thats ok with me. It was not bothering. All these lipsticks have light sheen to them, which makes them look lovely even without a lipgloss.
Pink me up
This is probably one of my favorites. My lips are semi-pigmented, and a pink color like this could give such a lovely coverage. It has enough warmth to it and can be worn easily without looking too Pink...???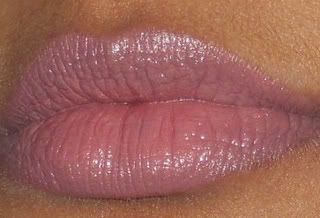 Warm me Up
This is a warm, beige nude. Its not dead beige, but sure does has some pinkish tones to it.
Its a lovely neutral, nude lip color.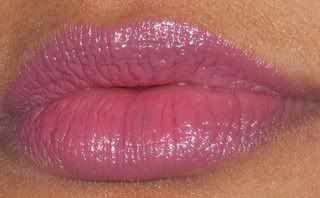 Yummy Plummy
This one looked the darkest in tube, but didn't go that dark on the lips. I had to layer on this one and it reminded me of Lustre formula by MAC.
Pink Of Me
This one had tiny silver sparkles. They are not visible here on swatches, but in reality, I could see it. Its a fantastic color.
Make me Pink
This one appears too washed out in the swatch. Its a milky Pink color and goes on just like its in tube. The color reminded me of Lady Gaga Viva glam lipstick by MAC.

The swatches above are without any liner or lipgloss. The colors are buildable and its easy to tone down any color using a gloss or liner. I remember paying $$s for Tarina Tarantino Lipsticks last month and it barely showed on my lips. These ones are so so much more pigmented!!

I am enjoying these lippies as of now. With an affordable price tag and a huge color range, you can't go wrong with these Maybelline Color Sensational Lipsticks...:)