As I a told you all I recieved this lovely flat iron from Misikko and they sell some amazing hair tools on their website
http://www.misikko.com/
Hana Professional Flat Iron 1"
To begin with, I one I got to try is their Hana Professional Flat Iron 1" which is a light weight, pink colored...cute lovely pink colored iron.
Functional pouch with two sections for cord and the Iron
It comes in this cute, pink case, which is very functional. as it has two compartments inside, that holds both the iron and cord very neatly. The cord is decently long, its 8 ft Salon Swivel.
Adjustable Temperature Dial - 5 Settings from 140-450° F for All Hair Types
The cool thing is this adjustable temparature dial, which has 5 settings and they range from 140 to 450 degrees. They also gave this Hair chart, that clearly mentions which mentions what is the good temparature selection for different type of hair. When you switch on, the light is static and it starts to flicker when the iron is heated. It remains in the same flickering state, the whole time. The iron heats pretty quick, like in 20 to 30 seconds. Also, it does not stops, if runned through damp hair. I did try that...
Floating 1" Plates with curved edges
The plates run through the hair smoothly and they stick to each other very well, so no hair strand is left while ironing. The plate is made of Ceramic, Tourmaline. It just glides beautifully and smoothly.

There are grooves provided for holding the iron. The thumb and index finger rest well on their respective grooves. I find it difficult to work with, if I don't hold it the correct way.

The portion where my index finger rests, kind of becomes a bit hot, not very hot or unbearable, but yes, it does becomes a little hot.

Now, my hair is wavy in texture. Its not coarse or thick. Infact, my each starnd is very thin and very prone to tangling. They are so light weight, that one wind wave and my hair is all over the place, looking frizzy and crappy...I had good hair, but they just get ruined in winter months, thanks to the 24/7 use of home heating system.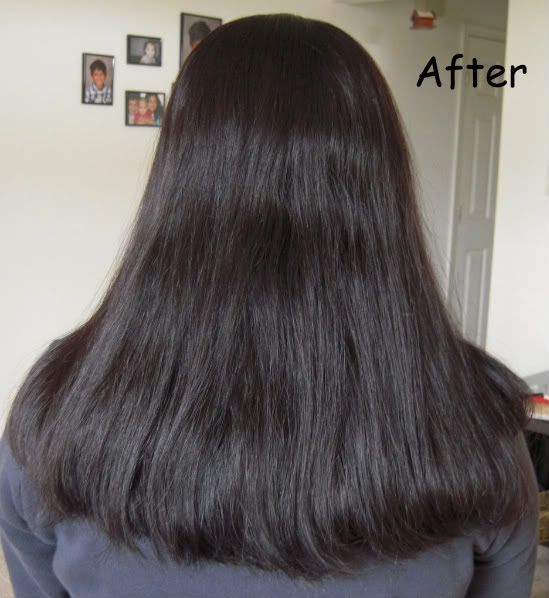 Pretty Straight Hair with lowest setting...
I set the iron to minimum heating and with just that I could achieve the above straightened effect. I prefer using less heat and running the iron throug my hair sections multiple times. When I want more stick straight hair, I use high heat and run the iron through hair sections just 2 or 3 times. This iron due to its adjustable heating sysytem, gives me the option to do both, which is cool.

The iron comes with a hair protectant by the name Hana ShineShield Thermal Protectant.
Thats a cool stuff, but I would review that in another post.
I could not think of any con with the product, though I wished it had this Sleep mode function, with which it could automatically switch itself if not in use for long time.
This is a nice affordable product and not to mention that it comes with heat proof pouch and mat. You can see both these products in my
preveiw
post.
If you are curious to learn more about this stuff, you can visit their website for viewing professional flat iron.
http://www.misikko.com/
They also have some other brands on their site incase you want to compare...
Some links for easy navivation:
Chi Flat Iron
FHI Flat Iron
Best Flat Iron
Disclaimer: This is product, sent to me for consideration. I have not been paid to review this. These are my honest opinion, seriously...