BENEFIT: Highbeam
A luminescent complexion enhancer. Benefit High Beam is an ethereal pink liquid
highlighter that creates a radiantly dewy complexion. For an angelic sheen, this
pink shimmering lotion adds a soft, natural afterglow. It's a "supermodel in a
bottle…" and perfectly alluring on all skin tones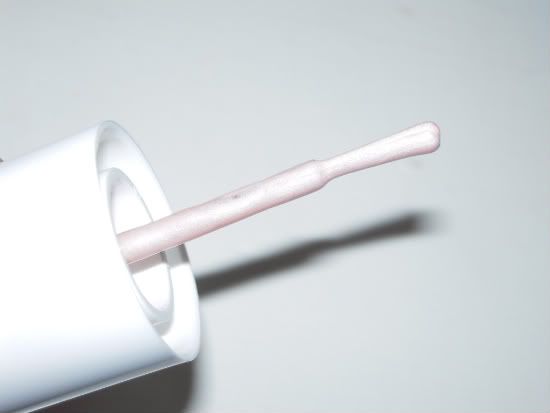 The applicator
This is a liquid product and is meant to highlight, provide a luminous glow and sheen to whereever its applied. This comes in a glass bottle that has an applicator like nail polish brush. The liquid itself is slightly pink in color and has a typical body lotion consistency. Its pretty light weight on application.
This can be mixed with lotion or foundation to provide a glowing, dewy look. The shimmers are not chunky or glittery, which is great because it does not ends you looking like a disco ball or a glittery mess. The end result is a soft, classy and elegant sheen. It does not accentuates pores or looks fake. The end result is lovely!
Even though it has a pink tint, it does not becomes pink or leaves a white cast unlike many highlighters, though I have not seen this on anyone around NC5O, so don't quote me on that one...but over all it still covers are wide range of skintones. In my family itself people from NC20 to NC40 have rocked it!
Benefit Highbeam Swatch
Its easy to blend, but if left for long, it can just 'sit' there and inturn difficult to move around. I usually dot it with the applicator, then blend with the fingers. I would love to use 188 for this, but I don;t own one. Recently in one of my post a fellowblogger Ashwini suggested that she used wedge sponge for applying Strobe liquid lotion. I think I would try that sponge with this product too.
One challenge though I found was to blend this product over powder products. I mean, when I apply MSF Natural and powder blushes, this can be a bit difficult to work with.
Blended
The light reflecting particles in the product helps in hiding the minor imperfections and it really gives a soft glow and elegant sheen. I love this product (the color) more than Moonbeam. This blends in so seamlessly, that it does not feels as if you are wearing anything on your face. The glowing skin is from within.
Its a fantastic product, IF USED CORRECTLY....You can try mini size of this product, which comes in a $10 kit along with 3 more other mini products from Benefit to try.
Disclaimer: These are my personal experience with the product. This is not a paid reveiw and the product is not sponsered aswell.