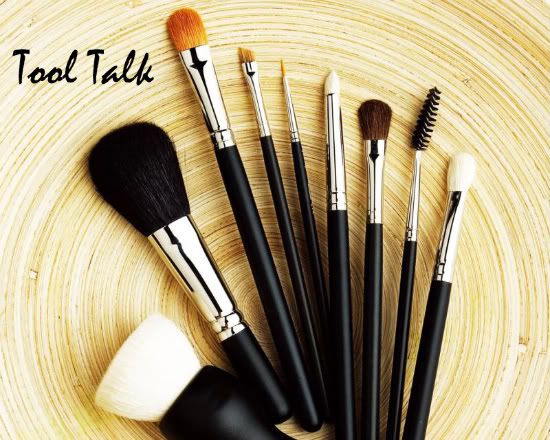 TOOL TALK: MAC FACE BRUSH
'Tool Talk' is a fancy name for posts where I would talk about Beauty Tools,
Hair Tools or for that matter any 'Tool' that we 'humans' use to groom ourselves
and make life easier and prettier!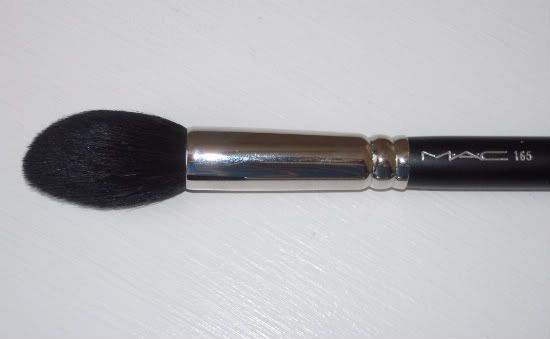 MAC 165 Brush
TOOL TOPIC: MAC 165 Tapered Cheek and Highlighter Brush
This is a Limited Edition Face Brush released by MAC and it is designed to applying Highlighter.
Its aptly named as Tapered Cheek and Highlighter Brush.
This one is a natural bristle brush and is very soft like most of the MAC Brushes. The shape is decently tapered at the end and it is dense enough to pick the needed amount of color and deposit it perfectly on to the areas needed. I like to use it for highlighting cheek bones. The brush blends in the product nicely too.
MAC 116 Brush
TOOL TOPIC: MAC 116 Blush Brush
MAC 116 is a Brush with Natural hair and it is very soft. The tip is rounded and the bristles are firmly packed at the furules. Its a dense brush and is designed to apply Blush on the cheeks and Highlighting aswell. This is smaller than 129 Blush Brush and hence can be used for applying blush on smaller cheeks. Its a dense brush, so it kind of picks more color, which can be risky with bright, pigmented colors. It blends well, but I would prefer a fluffier one like 129 for the cheeks. I personally have been using this 116 to highlight areas on my face.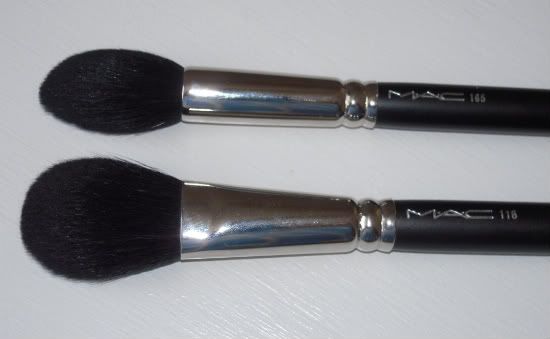 Comparison: 165 and 116
Now, when the 165 Brush was released last year, I was totally not interested in it. The reasons were multiple. Firstly I was under impression that it would be pretty similar in performing the task just like my MAC 116 and secondly at a whopping price for $34....NEVER!!!
I did get it at my CCO for $25, which again is a lot, but then at CCO you always have a mindset that things are discounted. I just bought it for the sake of buying...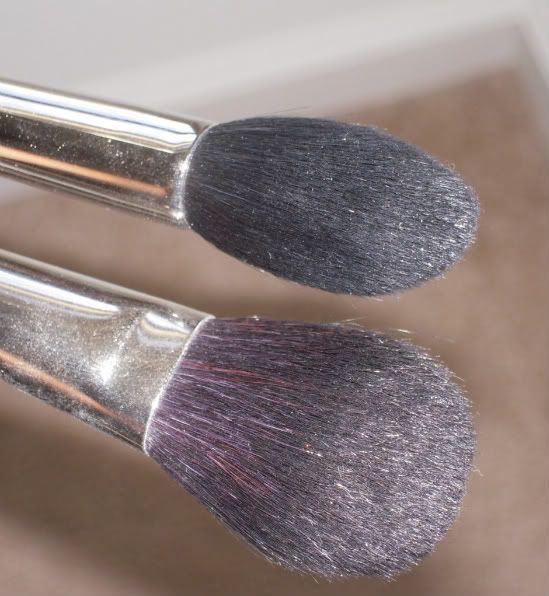 The Bristles
I must admit, I was totally wrong with my thoughts about this brush. The thing with Highlighting and Contouring is, you need to be careful. A little wrong placement of shimmer on face and you end up looking weird, greay, disco-ball or whatever you want to call..but in general you end up looking like mess.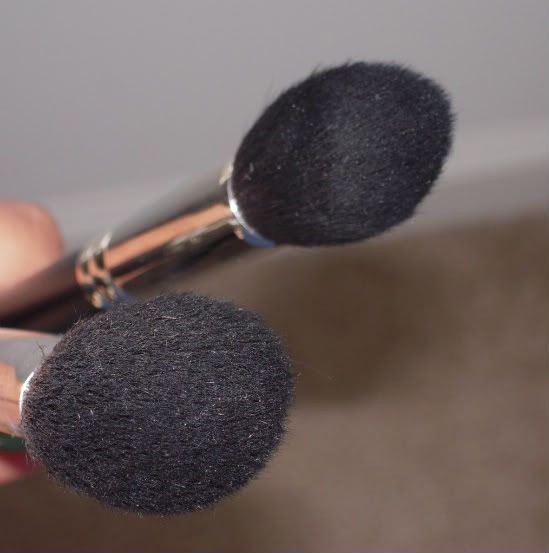 Bristles from certain angle

When I used to use my 116 for highlighting my cheek bones, I had to be very very careful, so as not to deposit the shimmery highlighter on cheek or anywhere else, other than the cheek bone. It used to be difficult because I have a small face and in turn a small cheek...let alone the smaller cheek bones....
Make-up application has become more precise and fine after I started using this 165 Brush. Now the shimmers don't travel to my cheeks and my pores are not visible!! It can be great to contour aswell, but I have not tried that part much. I don't say its important to buy MAC 165, but any brush from any brand that has this kind of tappered shape should do the trick.
I would really like to know what tool you all use to apply your highlighter on cheek bones....
Disclaimer: I am not paid to reveiw this nor anyone has sponsered these products. This has been purchased by me.