I always knew this was Beautiful...I always knew I wanted this...It was just the price issue. I was not mentally prepared to shell out for a Highlighter/Shimmering Cheek product.
DIOR Compact
Very recently, a fellow beauty lover and you tube guru had this in her 'haul' video and I was reminded that this is something I want... So I checked it at Sephora again and It confused me, because at Sephora, this one looks shimmery...like the tester is real shimmery... So, I swatched it again at Nordies and Macy's. Infact at Nordies, the kind lady applied it on my cheeks too. She said, in July, their counter will have some Gift with Purchase deal aswell. The rest of the day, I kept admiring myself in every mirror I came across at the mall...I knew I can't wait till any deal or sale...I bought it...:)
DIOR SKIN SHIMMER IN 002 AMBER DIAMOND
A magical shimmering pressed powder from Dior.

What it does:
This
Spring Dior introduces Diorskin Shimmer Star, a light-filled pressed powder
enriched with Jeweled Microdust™. These five micro-shimmering tones set off
sparks of brilliance, highlighting your complexion. The ultra-fine,
super-blendable formula virtually fuses with your skin for a sheer, radiant
luminosity
The DIOR compact is waaay better than CHANEL Compact. Its heavy, sturdy and snaps shut well. The plastic is not thin like Chanel one. It comes in a black, felt kind of pouch and has a mirror too.
The Colors
Amber Diamond 002 is a mix of ivory/ champagne/ tan/ bronze/ peach colors in straight stripes. The shimmer level is so controlled. It is not glittery,OTT shimmery or frosty. The shimmers are finely milled and they apply Beautifully!
It blends easily and its so soft, that very less amount is needed. The sheen that it imparts is definatley worth every penny. The sheen does not accentuates any pores and gives a very ELEGANT finish. It leaves a lovely, glowy, luminous sheen.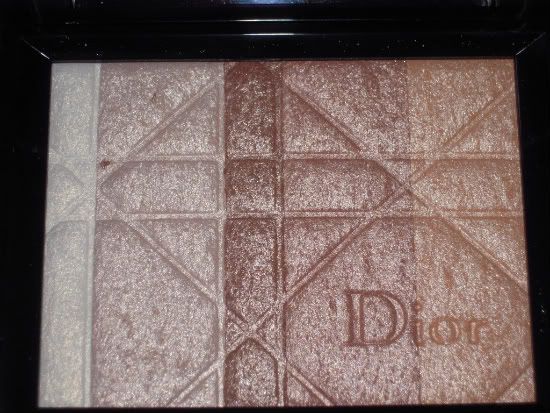 The Shimmer Level
This color looked particularly nice on my skintone. I would like the Rose Diamond aswell, but I fear the pinks in it may make it look more like a blush, restricting its use. I doubt I would be able to use it over my forehead and nose bridge area. I may be wrong, but that was my first impresson with the swatch.

In comparison to my another Highlighter Bobbi Brown Shimmer Brick in GOLD, which is my absolute favorite, this is more Peachy Gold and that one is more Yellow Gold. The shimmer bricks are usually very glittery and sparkly, but for some strange reason the Gold shimmer brick is not. It is still a bit more sparkly than DIOR though. Unfortunately it was Limited edition and I am glad DIOR thing is permanent.


Its work appropriate and I see it working on many skin tones and most important working on mature skin aswell. It would not leave the face sparkly, which I think is not so flattering on mature people.
The brush I use is either 165, 129 or 116 depending on where exactly I want to use. The strips are distinct and its easy to use a combination of just 2 colors aswell.


Would I buy again? Oh, yes...anyday, if I manage to finish this pot....

Bobbi Browm Shimmer Brick in Gold

P.S: If you find that this product looks shimmery, sparkly at Sephora counter, do give it a try at DIOR counters of department store. I guess Sephora testers at times gets messy, due to improper usage/swatching by many people...
Disclaimer: This is not a paid or sponsered review. These are my personal thoughts on the products after using it for just 2 days. Its not a skincare item. Its make-up and was an INSTANT LOVE..