Lip Liners are very much needed to get that 'perfect' lip. Almost all the brands have a huge range of lipliners. Personally, when it comes to Lip Liners, I am pretty stingy to spend on high end brand. I find drugstore brand lip liners work equally well, if not better.
JORDANA Lipliners
Jordana is a drug store brand, sold at Walgreens. I don't have any idea if they carry this line anymore there. I have had these for a while.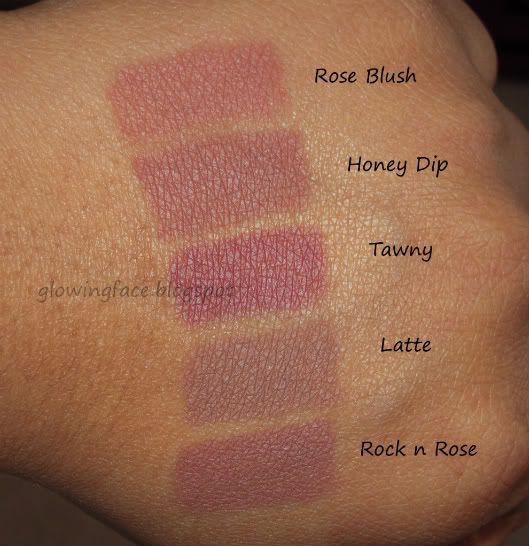 JORDANA Lipliner swatches
The texture of these liners are smooth and they last a decent amount of time. Infact they last till my lipsticks last, so thats enough for me. These don't stain the lips, so even if the lipstick fades, there is not distinct 'ring' of color around the mouth/lip area.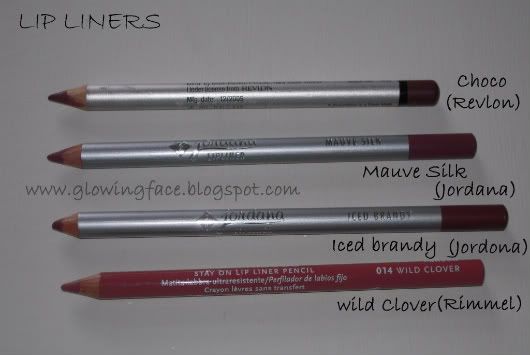 JORDANA, RIMMEL, REVLON Lip liners
The Jordana pencils (the one that needs sharpening) were on sale for like 50 cents...That cheap and best, rolled in one!!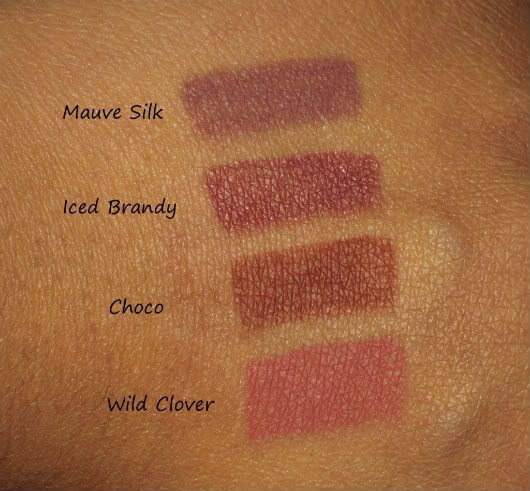 Lipliner swatches
Rimmel liner is smooth too. I personally like liners that don't need sharpening. I am more inclined towards the liners that are self sharpening or twist up pencils.
MAC Lip Liners
I had got these from CCO I believe. They were discounted, so it didn't hurt buying a high end liner. I find these are soft and creamy. No tugging and pulling required. Honestly, I didn't find any 'texture' difference between these cremestick liners by MAC and my affordable Jordana ones.
MAC Lip Liner swatch in Gingerroot and Sublime Culture
I don't have a huge collection of lip liners and if you notice, deep color like red, burgundy and magenta are missing!! I don't often wear very deep, dark colors and whenever I need to wear these colors, I use a white/transparent lip liner from Revlon. It prevents my lipstick from bleeding and being transparent, the color issue is solved. The transparent liner can be used as a lip base on its own, like lip primer and trust me, it works.
NYX, Wet and Wild are truly 'cheap and affordable' brands that make good lip liners. Apart from that Rimmel has some cool ones. I don't think I would be spending money on any of these NARS, Illamasqua and other high end lipliners. If they ever come in a part of kit, which I doubt, I would sure love to try them...you all know how much I love value packs/gift sets and deals...lol!!!!

Recently I got a chance to swatch some Urban Decay 24/7 lip liners at store and that I would call different. They were amazingly pigmented and soft. I could use them as lipsticks too. The colors were nice and I was impressed because they were beautiful enough to be worn as lipsticks alone.
Will put those swatches in post to follow. This post has either ways become long, boring and 'picture heavy'.
Would you mind sharing your favorite brands and colors of lip liners in the comment section?