Everything is cute...Everything is sweet....Everything is so Pink....Everything is so girly!!!!
TARINA TARANTINO MAKE-UP
Celebrities, fashion stylists, and editors across the globe know Tarina
Tarantino—the "Queen of Irreverent Luxury"—as the accessory designer who makes everything she touches sparkle. This fuchsia-tressed former makeup artist now shares her passion for self-expression and playfulness with a complete cosmetics collection, available only at Sephora. Inspired by her nostalgic-yet-modern
jewelry line, Tarina developed innovative products with high-quality, color-rich
formulas and luxurious packaging. TARINA TARANTINO will take girls of all ages
on a fantastical journey, where they can express their own personal style and
reveal their inner sparkle.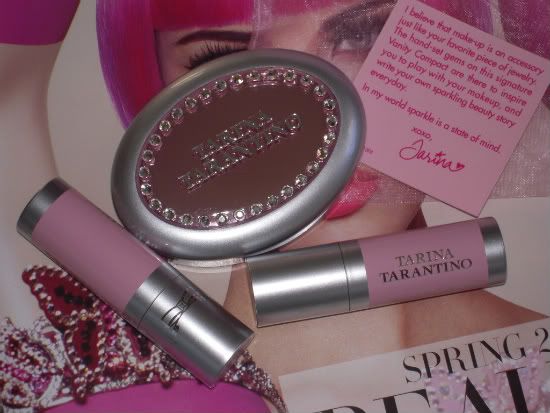 THE PACKAGING
Ever since I saw the pictures, I was very sure I need something from this line. I am not a sucker for packaging when it comes to make-up, though I am all for cute, lovely Fragtance bottles. Everything in Tarina's line is just that....
PACKAGING
!!!
No doubt, she has done wonders with that aspect...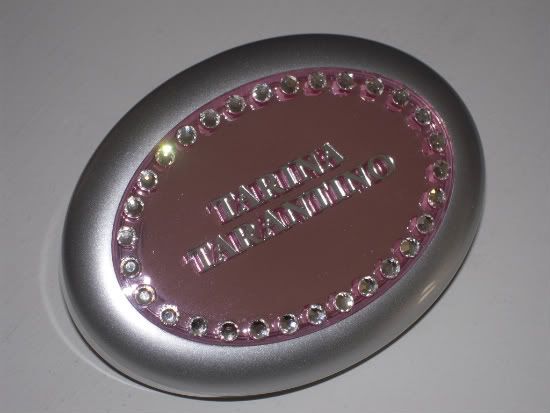 LOOK AT THAT ARTWORK....
The blush container is simply superb. The jewels, the color, the feel...very pretty!! I treat it more like a fancy show piece for my vanity (read bathroom counter). Every container, be it eyeshadow pot or blush or powder, all were worth admiring. I personally wished she had designed some cute fragrance bottles...or maybe she has already designed some...I have no idea.
I may be yaking alot about the packaging, but trust me thats the USP of this brand!!!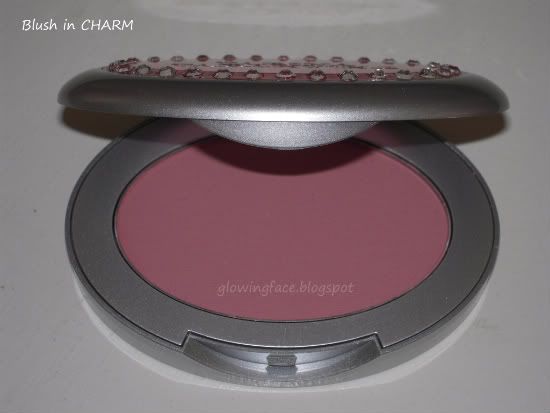 BLUSH IN CHARM
Dollskin Cheek
A silky powder blush that imparts a natural glow with true color payoff that
wears all day long. This formula has micronized powders (also known as "HD" or
"High Definition") that glide over skin and blend evenly and easily for a
beautifully balanced result. Buildable color allows customized coverage to suit
every skintone. Unique micronization technology provides the most ultra-fine
particle size possible, which results in enduring, crease- and fade-resistant
application.
The Blush I picked in Charm is a matte, pink blush with some plummy undertones. I personally like it for my skintone. A blush which is baby pink, has the potential to look ashy on me if not used correctly. A plummy blush makes me look punched and tired. Luckily this has the right amount of plum undertones to it.
The texture of the blush is not so smooth. Its bit on chalky side. Its not overly dusty. My blush brush can pick a good amount of color in one dab. The color pay off is decent, its not ultra pigmented , nor is it totally sheer. The color is buildable, but it didn't last the whole day. By end of the day, it was pretty much gone.
SWATCH OF CHARM BLUSH BY TARINA TARANTINO
On my later applications, I did use a cream base and then the issue was solved. It lasted the whole day.
THE CUTE NOTE
This was a note that came with the blush and there was a cute organza pink pouch too.
It costs $25 plus tax and at that price I do expect something more than mere packaging. I mean you can get some amazing NARS, ILLAMASQUA, CARGO blushes at around same price. yeah, so I wish these had a better texture. I am happy because the color is working for me and yes, its a cute vanity decor....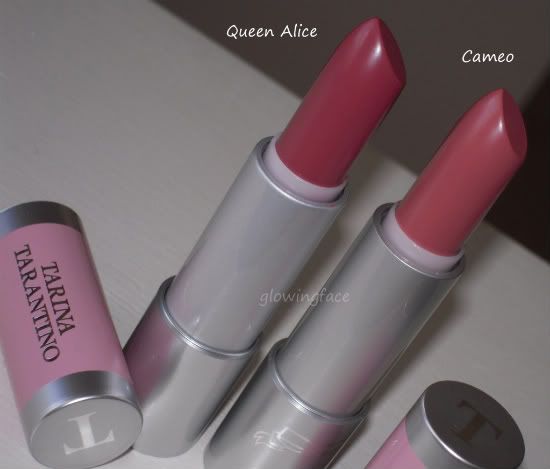 TARINA TARANTINO LIPSTICKS
Conditioning Lip Sheen
A lightweight, conditioning lipstick that delivers medium pigmentation and
shine.This luxuriously creamy lip color creates a perfectly pigmented, satin
finish in one easy swipe. The flavor-free formula works clash-free with Gem
Gloss.
LIPSTICK SWATCH IN CAMEO AND QUEEN ALICE
The website clearly mentions that this is a Conditioning Lip Sheen, so me expecting loads of pigmentation from this is not fair...but man, at $22 I did expect it to be at least pigmented like MAC Slimshines!!! Even my tinted Lip conditioners are more pigmented than this one.
This one has no fragrance which is one thing that I like.
TARINA TARANTINO LIPSTICKS IN CAMEO AND QUEEN ALICE
The packaging of the tube is cute and sleek. It locks in so smoothly and the color of the tube is mauvy pink. It reminded me of those Asian Lipsticks that I had when I was in my teens...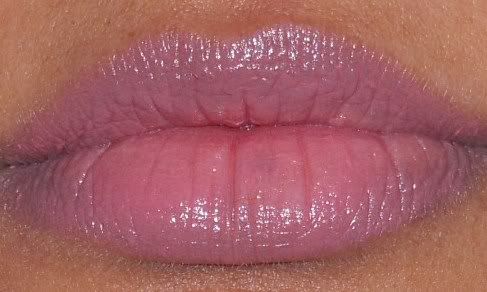 CAMEO
QUEEN ALICE
The above swatches are pretty heavy swatches and I have pigmented lips, but not ultra dark lips. This is a glorified lip conditioner in a tube...I am happy that it at least moisturizes!!!
I also used it over a pinkish nude lipliner and then it worked decently well. The colors are pretty, just wished they were more pigmented and long lasting.
I also saw the lipglosses, but they seemed sheer to me. The eyeshadows looked pretty and I even swatched a few. They looked pigmented, but non of the colors were unique. Also, to be honest, I didn't wanted to spend everything on one brand, so I chose to wait.
I am Sephora VIB, so I got this mail that if I buy anything from this line, I will get a braclet worth $30 free...but damn!! I had already hauled.
So I asked Mel from Melformakeup, that how does Feather blush and Parsol blush compare to NARS. She said one is like Deep Throat, and one is like Orgasm, not dupes, but similar... If I have any of those, I don't need these...
I always say, when in doubt about blushes, ask XINAROX or MEL or VAL....Blush queens always to your rescue...
So yes, the brand is a great if you are a fan of cute, girly packaging....I personally felt, I was paying huge amount for the packaging alone. I would have purchased a purse mirror if they had one in their line...:)
Disclaimer: I have paid for everything mentioned here. These are my personal experience with the brand and the products.